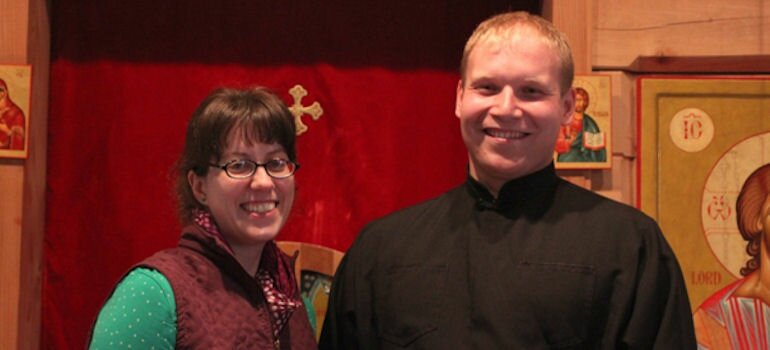 When Herman was 16 years old, he got in trouble with the law. This was largely due to youthful activity making wrong choices on alcohol and drug use and other issues. His frandfather, Judge Roy Madsen, gave him the choice to become part of the St. Innocent Academy or go to jail. Herman chose the academy and went there under the tight structure of Fr. Paisius De Lucia.
His mother abandoned him when he was a child and left him with his paternal grandmother. He had never been baptized but had attended an Orthodox church with an aunt. His grandmother was Episcopalian. Once Herman was taken St. Innocent Academy, he knew he wanted to turn his life around. He was baptized by Fr. Paisius at the academy in 2003.
Herman graduated from Kodiak High School in 2006. He then attended University of Alaska Anchorage in Kodiak for one semester to work on his CNA - Nurse Assistant Certificate. After working at a local clinic in Kodiak for one year, he returned to UAA for his nursing degree. This was not completed at this time. e then worked for a while at an assisted living home before changing to work at the hospital. During 2013, he worked for the Karluk Native Corporation on landing craft hauling transport goods to villages near Kodiak.
It was about this time that he met Erika Mary Johnson - a student at St. Herman Theological Seminary. They fell in love, but he did not have the support from Fr. Paisius on his choice of Erika. He was told he had to give up his association with her or leave the academy. He left the academy and was living on his own while working on a landing craft. One day he was walking near the seminary and ran into Bert Nicholas Montiegel - a student there. Bert told Herman that there was an empty room at the seminary and suggested that he enroll at seminary and study for service to the church in Alaska. By now, Herman was a member of Holy Resurrection Cathedral, and his priest was Fr. Innocent Dresdow. He prayed the Akathist to St. Herman that night for guidance. The next day he talked with Fr. John Dunlop, Dean of the seminary who suggested he talk with Fr. Innocent.
As he walked to Fr. Innocent's house near the seminary, Fr. Innocent drove up in his car and motioned to Herman that he was needed to help take some pilgrims to Spruce Island - the home of St. Herman. While he was on Spruce Island, he felt that God was there and that it was confirmed this was the direction he was to go - attend St. Herman Theological Seminary. He prayed at all of the Holy Places on Spruce Island. Then he jumped into the river and caught a fish with his hands. That was a sign for him - he was to go.
When he returned to Kodiak, he gave notice to his boss that he would be leaving his job. This was not a happy exchange. His boss was not happy to lose Herman because he was such a good worker. He expressed his anger but it did not change what Herman knew he was meant to do. In 2014, he applied to SHS and was accepted as a first year student. His favorite subjects are Doctrine and Spirituality. He feels that he has acquired a good structure at seminary.
On May 4, 2014, Herman and Erika Mary were married at Holy Resurrection Cathedral with Bishop DAVID Mahaffey and several Alaska clergy officiating and overseeing the marriage ceremony. Herman and Mary spent their honeymoon in Sitka where they met Fr. Michael Doyle - Dean at St. Michael the Archangel Cathedral. Here they did some hospital visitation. Herman hopes to help with drug/substance abuse prevention in Alaska as well as the education of the faithful in their Orthodox parishes. He is expected to graduate from St. Herman Theological Seminary in May of 2017. Erika Mary graduats in May of 2016.