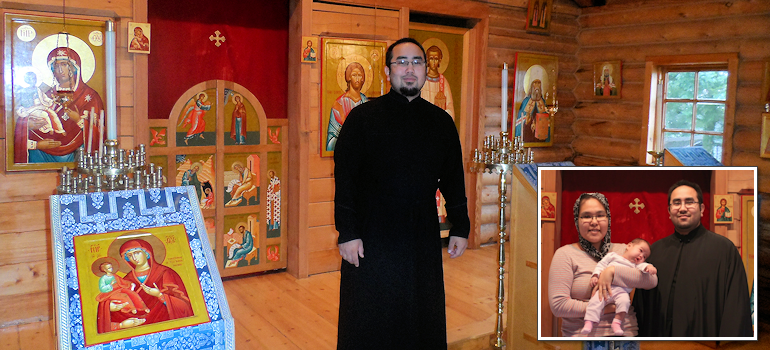 Subdeacon John was the traveling Subdeacon with Bishop NIKOLAI. He was born, raised and Baptized in Anchorage. In 2006, he graduated from Robert Service High School. He worked in music production with friends who had a Rap/Hip-hop band. The band is now called "Odd Ones Out". He still helps when needed.
Subdeacon first served the Church at the age of five, and over the years wanted to be a priest. Bishop NIKOLAI was a huge influence on his decision to go to seminary. Vladyka recognized John was well-disciplined in his work for the Church. When Vladyka asked John about his plans, John told him he wanted to serve the Church.
John accompanied Vladyka NIKOLI to the St. Herman Pilgrimage in 2002. He began serving with His Grace at St. Innocent Cathedral in Anchorage - reading the Hours and Epistle. John learned a lot in a short period of time. He often traveled with Bishop NIKOLAI as his Subdeacon.
When Bishop NIKOLAI retired in 2007, John lost trust in some of the Alaska clergy. This led to too much partying. He took on low-paying jobs to get by and help his mother. One morning, John woke up and asked himself "What are you really trying to do?"
He decided to quite partying get back into the church. When he went to Fr. John Zabinko, Dean of St. Innocent Cathedral in Anchorage, he was greeted warmly. Father John, thrilled to see him, told Subdeacon John he should get settled in Anchorage, pay his bills, etc. With the direction of Fr. John, Subdeacon John followed this plan and enrolled at St. Herman Seminary in May 2011. He was accepted in July 2011. His first year was amazing.
He loves being at seminary and helps with the teaching. He loves the peacefulness of Kodiak. He is glad he stayed with his decision to go to St. Herman Theological Seminary. He knows Evil was tempting him, and he is glad to serve the Lord and bring people to Him. He has many ideas for helping the community including bringing in the locals to participate with seminary needs and projects.